AERIALS
As experienced installers of TV aerials and satellite dishes, Chiltern Aerials can provide your property with quality advice and services. We have many years of experience installing TV aerials, and can provide your home or business with aerials for digital TV. With free estimates by appointment for all installations, we can quickly get started with your aerial installation.
Good aerial installation is key for anyone who wants to ensure they receive a good picture for watching TV. Our expert installation team will carry out your installation quickly and efficiently, using the best available equipment and providing a quality finish. We make an effort to install your aerial without causing any unnecessary disruption to your life. Over the years, we have built the knowledge and experience required to deliver top quality installation services that result in a crystal-clear digital TV signal. We can offer advice and solutions based on you needs and the structure of your property to ensure you receive the best results.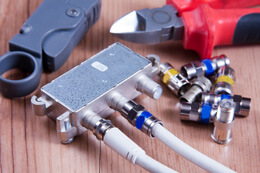 Whether you need to replace an existing digital aerial or install an aerial for the first time, our experienced technicians can meet your needs. Get set up with your TV aerial or satellite dish without the hassle when you use our installation services and benefit from advice from our experts. Our technicians can all work safely and heights and carry out each job efficiently to provide the very best service for your home or business. You can get started with a free quote by appointment, which incurs no obligation to have the work carried out.